Stablehost Review: A Reliable Web Hosting Provider
Are you looking for a reliable web hosting provider? If yes, then this post is for you. In this post, I am going to give you a Stablehost review. I will discuss everything about this web hosting provider and gives you detailed information about its services.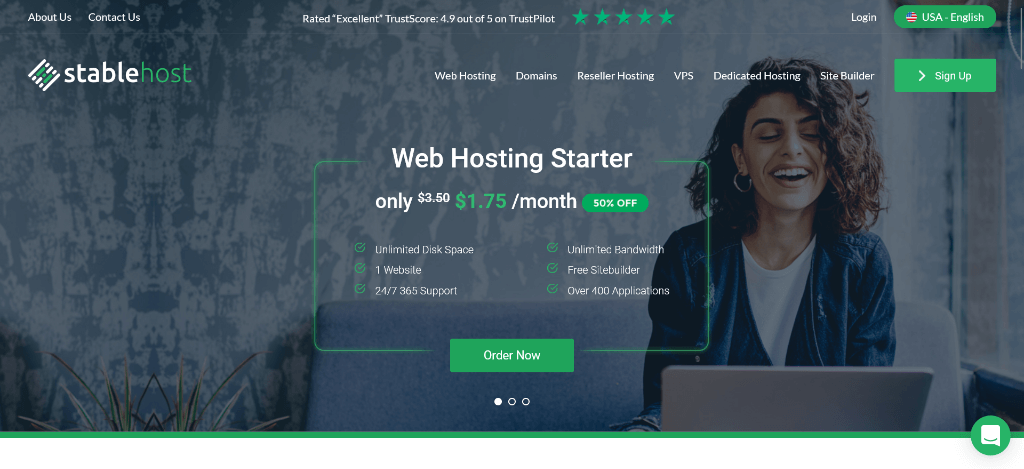 Web hosting is a fundamental building block of any online business. Whether you want to open an online store or want to start a blog, You need a reliable web hosting provider.
An Intro About Stablehost
Stablehost is a privately owned web hosting company having headquarters in Arizona, USA. The company was founded in 2009. It was later part of the Miss Group, in 2018. The company is popularly known for providing shared web hosting solutions at very affordable costs. Apart from shared hosting they also provide:
VPS hosting
Dedicated Servers
Reseller Hosting
Domain names
They have 96GB of RAM, Dual E5 CPU, and Enterprise level SSD drives to boost up their servers. They also have good security features like 2FA, Virus Scanner, IP Blocker, ModSecurity, ImunifyAV, and SSH Access.
Hosting Services Offered By Stablehost
As you know Stablehost offers various hosting plans for their customers. In this Stablehost review, We are going to review their shared hosting plans.
Shared hosting is a great choice for starting a website and growing it hassle-free. Shared hosting offers an ample amount of resources to grow your website. Later, you can upgrade to VPS or dedicated servers.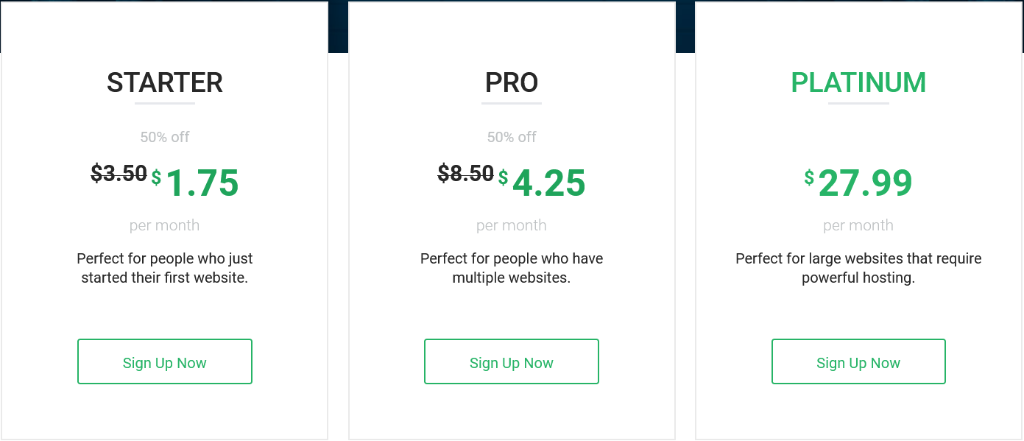 Let's check what Stablehost offers in their shared hosting plans. They currently offer 3 shared hosting plans.
Let's check these plans in detail.
| | | | |
| --- | --- | --- | --- |
| | Starter | Pro | Platinum |
| Pricing | $1.75 per month (3 years) | $4.75 per month (3 years) | $27.99 per month (3 years) |
| Disk Space | Unlimited | unlimited | Unlimited |
| Bandwidth | Unlimited | Unlimited | Unlimited |
| Free Domain | Free | Free | Free |
| SSL Certificates | Free | Free | Free |
| Websites | 1 | Unlimited | Unlimited |
| DDOS Protection | Free | Free | Free |
| INODES/ Files | 250000 | 250000 | 500000 |
All Plans come with 45 days money back guarantee. If you are not satisfied with their services then you can ask for a refund within 45 days of your purchase.
I personally recommend you to use their "Pro" plan as this plan gives you enough resources to start and grow your website hassle-free.
You can easily upgrade your plan easily without any issues. You will get 50% Off for new account signups. I recommend you buy their plan for 3 years to get maximum discounts
Customer Support
When choosing a reliable web hosting company, we need to consider Customer support services. No, A company can survive the market if they have poor customer support services.
Stablehost offers 24/7/365 customer support services to its customer. You can contact them via live chat, Email, support tickets, and Phone calls. I won't say that they are very fast but they are quite responsive in providing good customer support services.
They do have a knowledge base where you can find the answer to common hosting-related issues.
Excellent network Uptime
Network uptime is very important for a website. It ensures that your website is available for your users 24*7.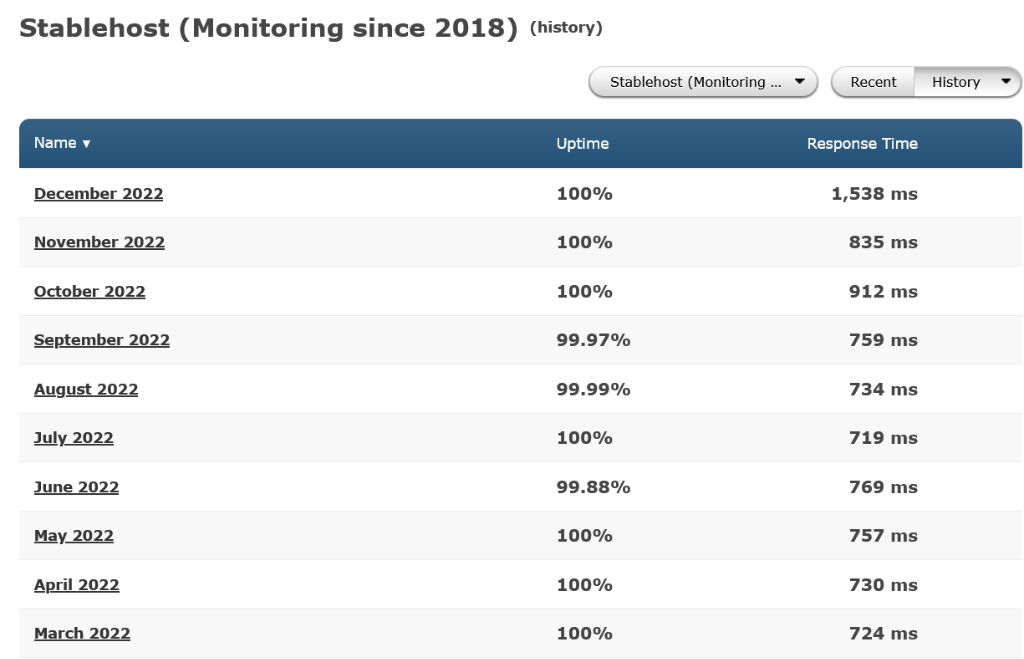 Stablehost offers 99.99% of network uptime which is very good and is an industry-standard. Before writing this Stablehost review, we have tested them and in the last week, they provide 100% network uptime. Page loading speed is around 1 second which is also good.
Free Website Transfer
Transferring a website is a technical job and needs time and patience. A technical novice person cannot do it. Stablehost offers free website transfer services only for one website. You need to avail of their free website transfer service within 30 days of your purchase.
Later they will not entertain your free website transfer request. You need to contact their support and provide them with your FTP and database details. If you are using a Cpanel hosting then simply provide them your Cpanel login details and they will migrate your website free of cost.
Security Features
In today's digital world, security is a big and challenging job for webmasters. Stablehost cares for your website security. They have DDOS protection services along with many comprehensive security features like:
2FA: With Two Factor Authentication, you would require a second factor to verify your identity while logging in to your StableHost account. It basically works on security codes generated via authenticator apps like Authy, Google Authenticator, etc.
Virus Scanner: It scans your entire website files, email, public FTP space, or web space to find traces of any viruses present.
IP Blocker: Allows you to add certain IP addresses you wish to prevent from accessing your website.
ModSecurity: This is a firewall service for web-based applications. It detects malicious connections in your online traffic and blocks them actively.
ImunifyAV: It is an antivirus tool for websites. It scans your website and detects malware, adware, spyware, trojans, etc, and helps you clear them with a single click!
SSH Access: Secure Socket Shell (SSH) Access helps users securely transfer files over the Internet and connect to their hosting server and make required modifications to it.
Stablehost offers clustered shared hosting services for faster website loading speed. Cluster hosting basically monitors the health of all SSD where files are hosted every 60 seconds.
During the process, if somehow it detects an issue like server overload or any other hardware problem. It will automatically move you right off to another drive offering you the best performance available.
This technology will also allow load balancing so that your resources can be easily scaled up if there is a hike in the number of visitors. This will prevent server overloads and here visitor hikes on your website will be handled right with their 200GBps network.
Cpanel Hosting
Cpanel is a widely used hosting management tool. You can easily manage your website files, database, SSL certificates through Cpanel.
Stablehost offers Cpanel on all of their shared hosting plans. If you are buying their VPS plan then you need to purchase it separately as an add-on.
Backups
There might be uncertainty happening to your website at any time. Having a backup of your website can be a time saver for you. You can easily back up your website files and database from Cpanel.
However, Stablehost offers 14 days of free backup services. You can easily restore your website database and files with a single click.
You can access your backups through the R1Soft Backup service. It is available on all its Shared and Reseller Web Hosting plans.
FAQs Of StableHost
Does Stablehost offer Free Domain Name?
Yes, Stablehost offers free domain names on all of their shared hosting plans.
Does StableHost offer an uptime guarantee?
Yes, StableHost offers a 99.9% uptime guarantee to its customers. If they cannot fulfill this, the users can request a refund for that entire month's credit from them.
Where are StableHost's servers located?
They have servers in various locations across the globe. They currently have data centers in multiple regions, including the USA, Netherlands, Singapore, Germany, Sweden, and Spain.
What Payment Options They are offering
They are currently accepting payments through PayPal, Credit Cards, and Bank Deposits. All prices are in USD.
When Does My Hosting account gets activated?
Your hosting account will get activated instantly after making the payment.
What If I do not like their Hosting?
If you don't like their hosting then you can ask for a refund within 45 days of your purchase. They are offering 45 days money back Guarantee
Over To You
If you are still looking for an affordable and reliable web hosting provider? Stablehost is an ideal choice for you. They have decent shared hosting solutions at very affordable pricing and offer Excellent network uptime.
We hope you found this Stablehost review useful. I suggest you go with them and try their shared hosting services. You will definitely get quality web hosting services especially if you want to start a new website.