GeneratePress Premium Review: Fastest WordPress Theme
GeneratePress is one of the fastest and light-weight WordPress themes. Many Bloggers are using it. In this GeneratePress premium review, we are going to review GeneratePress premium modules.
GeneratPress is a free-to-use WordPress theme. You don't need to pay a single penny to use it for your blog. However, it has some limited features and customization options.
Also Read: How To Start A Profitable Blog
To get more customizable options, you need to use its premium version. GeneratePress premium is a bundle of some handful features that help you to design your blog to the next level.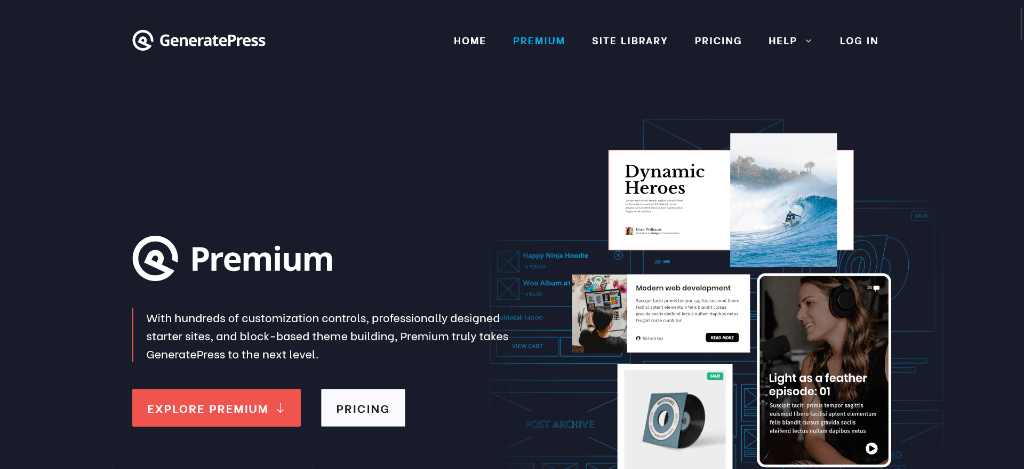 GeneratePress premium is a module and you need to install it as a plugin to use its features and add-ons. Let's check out some of its premium features:
Features that you will get in GeneratePress premium
GeneratePress premium comes with many extra options and features that help you to customize the theme and make it looks more professional and user-friendly. Let's check them out:
1. Site Library
GeneratePress premium comes with Site Library which has many readymade WordPress theme designs. You can simply import these readymade sites with just a single click.
It will automatically install the design options and you can customize it as per your requirement. It will definitely save your time.
2. Colors
By default, GeneratePress has a limited color option but with their premium plugin, you can use unlimited theme colors for both Typography and design.
Simply select the color of your choice and make your blog looks more attractive.
3. Typography
GeneratePress premium has 650+ Google fonts. Typography plays a great role in user engagement. In the free version, you will get limited Google Fonts but with their premium plugin, you can use 650+ fonts.
You can select the size of your typography as well as select different fonts for your headings, menu, etc.
4. Elements
Element is the most attractive module of GeneratePress Theme which helps you to add dynamic heros, advance hooks, Layouts, etc.
Most of the advanced features can be implemented by using Elements Module. Users and Developers use this module most of the time to tweak and achieve advanced customization.
When you use Element, you can also set the element to be displayed in different locations. Locations can be anywhere between entire sites, pages, posts, categories, tags, etc.
By using secondary navigation, you can add an extra menu with colors, typography, layout, etc. You need to activate Secondary Navigation in GeneratePress.
You can also set the location of this secondary menu below or above the header. Assign your desired menu to your theme.
6. Sections
Sections are just like the mini page builder available in GeneratePress Premium Add-ons. If you are using an advanced Page builder like Elementor, Beaver Builder, etc. then you can avoid using sections.
It helps you to design the page headers of your blog posts and pages. Moreover, If you are using Classic Editor then you can use section modules in your post/page with ease. It is easier to build a page with available settings in sections.
7. Spacing
The spacing add-ons help you to manage the margin & padding and control the size in GeneratePress. You can also use this module in the header, menu item, container separate, sidebar width, content padding, width padding, footer widget & footer padding, secondary menu, etc.
8. Woocommerce
Woocommerce is a plugin available for WordPress to create an e-commerce site. It is a free and open-source plugin. GeneratePress premium also has Woocommerce features. To use it, you need to install and activate the Woocommerce plugin on your website.
Pricing
GeneratePress premium comes with some affordable and flexible pricing options. They currently offer two types of Plans. Let's check them out.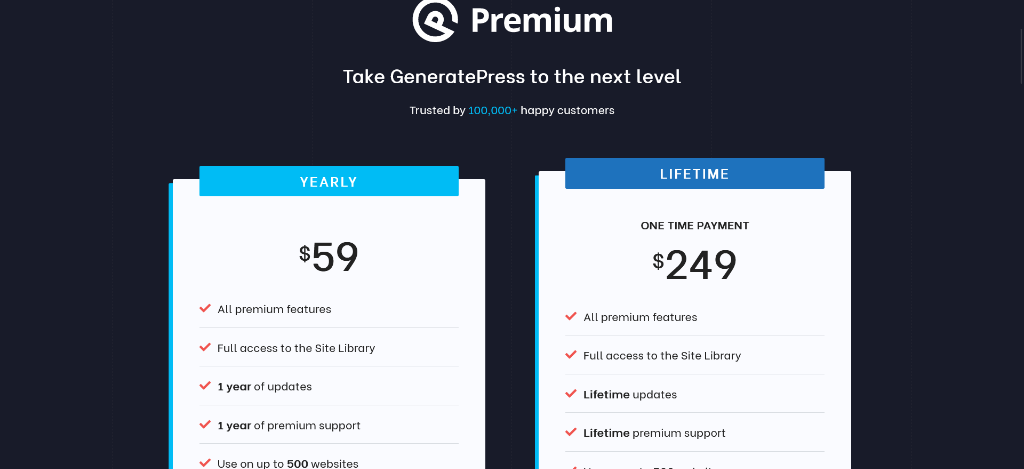 1. Yearly Plan: – In this plan, you are allowed to use this plugin for only one site. You need to renew your license yearly to get updates and free support. You can buy this plan for $59 per year. You will get discounts on renewals too.
2. Lifetime Plan: – In this plan, you are allowed to use this on unlimited sites. You will get lifetime free updates and Support. You can avail of this plan for paying $249 one time.
For me, if you don't have the budget issue then you should go with the lifetime license.
Why you should go with GeneratePress Premium?
There are plenty of reasons that you should go with the GeneratePress premium. It comes with some decent and attractive features. I am also using the GeneratePress premium and it works better than the free version.
1. Very Light Weight and fast loading Theme
It is a very lightweight theme and has a decent page loading speed. If you are using this theme, you will get a good score when you analyze the speed test of your blog. Check the image below to take look at how my blog performs by using this theme.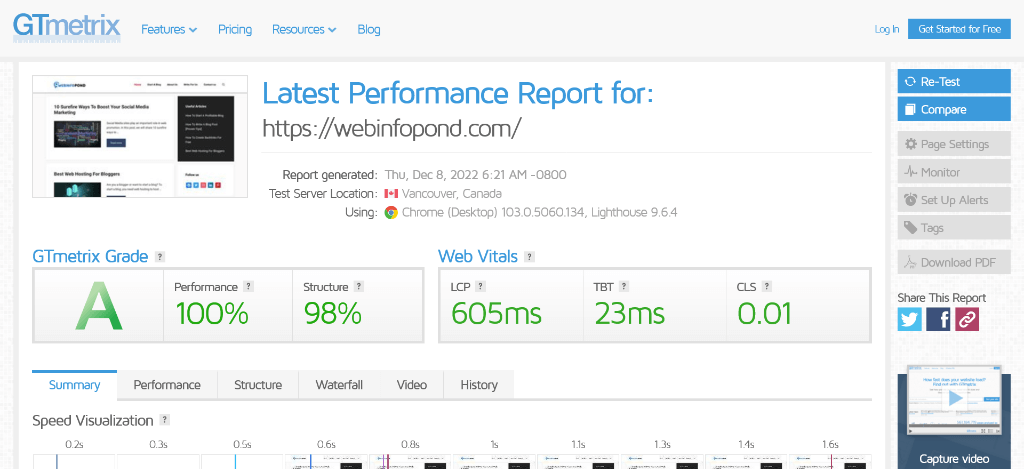 2. Excellent Support
GeneratePress has its own support forums where you ask your questions, concern, and issues related to your design. There is a handful of the team of people there who will help you in the best possible manner.
You literally won't regret choosing them as your theme provider.
3. Works perfectly and seamlessly with 3rd part plugins
GeneratePress premium works perfectly and hassle-free with almost any 3rd party plugins. You can also use page designer tools like beaver builder, Elementor with it.
It will give you the edge to design your blog and make it look more professional.
4. Easy Documentation
GeneratePress premium comes with easy documentation. You can access GeneratePress Theme Documentation. The documentation is divided into four parts, it is easier to navigate and search any tutorial within the knowledge base.
How to Install the GeneratePress premium
Click here to buy the GeneratePress premium. Download the plugin. You can download it instantly after making the payment and grab your license key too from your account here.
Now login to your WordPress admin panel. On the left side of the menu click "plugins" now click "add new"
You will find an upload option. Just upload the plugin and click "activate". Now activate all the premium modules or elective modules of your choice. You are ready to use it.
Make sure that before uploading the GeneratePress Premium plugin you need to install and activate the GeneratePress theme.
Over to you
I hope you have found this GeneratePress Premium review useful. If you are still searching for a fast loading and easy-to-customize WordPress theme then GeneratePress is an ideal theme for you. You can also expand this theme functionality using the GeneratePress Premium plugin.